Requests for Proposals (RFP)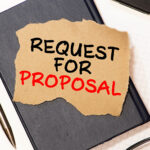 The Rogue Workforce Partnership (RWP) is currently opening Requests for Proposals (RFP) for their

Professional Audit and Financial Services

related to their Fiscal Year 2022-2023

.
Applications may be submitted after

March 27th and
before April 26, 2023, 4 pm PST.
Documents
(if you have difficulties opening a file, try using a different browser)
Questions & Answers
Please submit questions to auditRFP@rogueworkforce.org.  Any submitted questions will be answered and posted on the Q&A Page. Questions will be accepted until April 11, 2023.